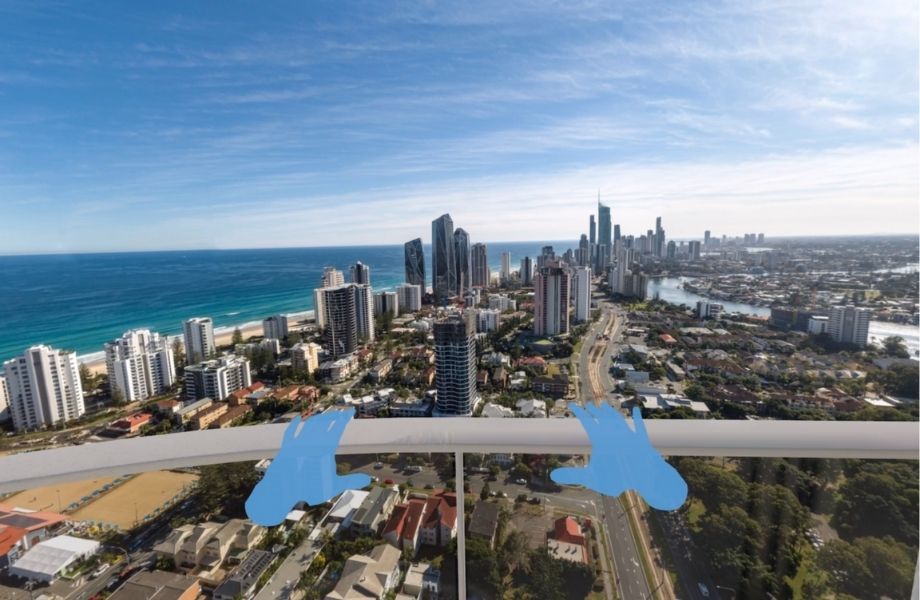 Covid-19 has been challenging for all, but the lack of foreign and interstate travel has made it especially difficult for property developers to achieve pre-sales.
Savvy developers have looked to new ways of replacing the traditional display suite and face-to-face sales and virtual reality is now being increasingly used.
Virtual reality has been used by the industry in various capacities in the past but previous versions were cumbersome and required viewers to be tethered to a powerful PC or only being able to experience the model from a few stationary points.
The emergence of mobile stand-alone virtual reality headsets has unlocked the next stage in the evolution of marketing media, virtual viewings, which allow buyers to walk through the unbuilt home in 1:1 scale.
▲ The pandemic has accelerated the uptake of VR technology in the property development sector.

Buyers can experience the feel, flow and proportions of the unit and see the real views in high-definition.
"We have been patiently waiting for the hardware to reach a point where we could showcase a lifelike VR experience on a mobile headset (for selling property). People are accustomed to stunning 2D renders and we wanted our experience to present just as well," Michael Shaw, founder of EnvisionVR, said.
"It was only late last year when Oculus released the Oculus Quest 2 that we knew it was time to get this product out—and everyone who has experienced it has been blown away."
EnvisionVR was founded by two Sydney property developers and technophiles to facilitate selling off the plan using virtual reality.
EnvisionVR converts 2D renders into a full 1:1 scale virtual reality experience that can be downloaded from app stores and viewed anywhere in the world using a VR headset, tablet, phone or web browser through the app.

"We worked with our marketing agents and other developers to make sure it had all the functionality to compliment the sales process," Shaw said.
"They wanted features like the ability to store plans and project information, flick between unit designs and colour schemes and communicate with voice to foreign buyers."
Macquarie developments are the latest to use EnvisionVR to showcase their Broadbeach, Gold Coast tower Assana at a time when foreign buyers cannot enter the country.
"Macquarie wanted to avoid building a display suite, reach foreign buyers and showcase the million-dollar views," Shaw said.
"Still renders just can't capture a view effectively and only show a horizontal line of sight which is useless on taller buildings.
"VR allows buyers to walk up to the edge of the balcony, look out, around and down at the real view that we capture with 4K drone scanning."
With many tech companies such as Facebook and Apple entering the space, the number of units being sold is increasing exponentially and VR is becoming increasingly used as a powerful tool to communicate design.
To experience how VR can save you money, increase sales and reach new markets, contact EnvisionVR to organise a demo kit or download our tablet app from the Google, Apple or Android app stores.
Read the article on the Urban Developer